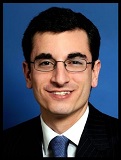 HOWARD W. KLINE, PARTNER, TRADEMARK ATTORNEY
HOWARD W. KLINE is a Partner in the Trademarks and Copyrights Department at Nath, Goldberg & Meyer.
Mr. Kline's practice involves all aspects of trademark, unfair competition and copyright law. He counsels clients on the availability and registration of trademarks and secures trademark registrations in the U.S. and throughout the world. Mr. Kline also represents clients in matters before the U.S. Patent and Trademark Office's Trademark Trial and Appeal Board.
Mr. Kline received his J.D. degree from the University of Pittsburgh School of Law in 2010, and his B.A. degree from Columbia University in 2007. While in law school, Mr. Kline served as the Editor-in-Chief of The Journal of Law and Commerce and his student note was published. Mr. Kline also received the David & Carl Janavitz Fellowship in First Amendment Law. While at Columbia University, Mr. Kline was the radio play-by-play announcer for the basketball and baseball teams.
Mr. Kline is admitted to practice before the Bars of the District of Columbia, Commonwealth of Pennsylvania, and State of New Jersey.