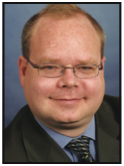 JERALD L. MEYER, CO-MANAGING PARTNER
JERALD L. MEYER is a Co-Managing Partner and the Partner-in-Charge of the Electrical, Mechanical and Chemical Engineering Department. Mr. Meyer's practice areas include patent prosecution and assisting in managing the patent portfolios of various firm clients. He is experienced in working with specialty chemicals, with a concentration in developing polymeric products based on desired physical and chemical properties. He is also proficient in the areas of power generation, heat recovery, and petroleum refining. Mr. Meyer's experience also includes monitoring and enforcing intellectual property rights in domestic and international markets.
Practice Areas
Mr. Meyer's legal and business experiences cover the following practice areas:
Chemical
Mechanical
Pharmaceutical
Mr. Meyer received a Juris Doctorate degree in l998 from the Franklin Pierce Law Center and a Bachelor of Science degree in Chemical Engineering in l992 from the University of Michigan.
Mr. Meyer is a member of Phi Alpha Delta law fraternity and the American Intellectual Property Law Association.
Mr. Meyer is registered to practice before the United States Patent and Trademark Office and is also admitted to practice before the Bar of the Commonwealth of Virginia and the U.S. Court of Appeals for the Fourth Circuit.