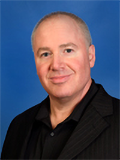 MORGAN D. ROSENBERG, PATENT AGENT
MORGAN D. ROSENBERG is a Patent Agent in the Electrical, Mechanical and Chemical Engineering department.
Mr. Rosenberg specializes in drafting and prosecuting U.S. patent applications and handles infringement-related matters. He has extensive experience in all stages of U.S. prosecution in a wide variety of technical areas. Mr. Rosenberg also performs patentability, right-to-use and validity/invalidity searches.
Mr. Rosenberg is the author of the Essentials of Patent Claim Drafting, Patent Application Drafting, and Patentability of Business Methods, Software and Other Methods, and was a contributing author for Intellectual Property Today. Mr. Rosenberg is an expert in determining patent subject matter eligibility for various technology areas.
Mr. Rosenberg holds an M.S. degree in Physics from the University of Maryland, and received his B.S. degree in Physics from the Worcester Polytechnic Institute.