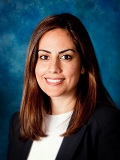 NAHIED USMAN, PATENT ATTORNEY
NAHIED USMAN is a Patent Attorney in the Chemical, Pharmaceutical, and Biotechnology Department. 
Ms. Usman has extensive experience in the preparation of domestic and foreign patent applications, and patent prosecution.  Her practice encompasses diverse technological fields, including biotechnology, pharmaceuticals, medical devices, industrial chemicals, and consumer products.  Her experience also includes other technical areas, such as display device technology, battery and solar cell technology, semiconductor technology, as well as aspects of polymer science.
Ms. Usman received her J.D. degree from American University, Washington College of Law, in 1999 and has been working in the field of intellectual property law since then.
She is admitted to practice before the Bar of the Commonwealth of Virginia and is registered to practice before the U.S. Patent and Trademark Office.
Ms. Usman is fluent in Dari and Farsi.